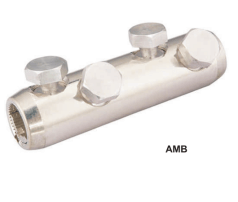 Characteristics:
1. Total cross-section:25-400mm
2. Pr-engineered desing for perfect fit in medium voltage cable accessories up to 42kv
3. Lugs are suitable for out door and indoor applications.
4. Connector and lug bodies are made of a high-tensile,tinplate aluminium alloy.
5. Connection between copper and aluminium conductors is possiable.
6. Also avaiable without wire stop,part number with U.
Nominal Cross section(mm2)

Code

Dimension(mm)

Bolt Quantity

25-95

AMB25/95

24

65

13

2

35-150

AMB35/150

28

80

16

2

95-240

AMB95/240

33

125

19

4

120-300

AMB120/300

37

140

24

4

185-400

AMB185/400

42

170

24

6