Fuse Switch Disconnector 400A LV Pole Mounted NT fuse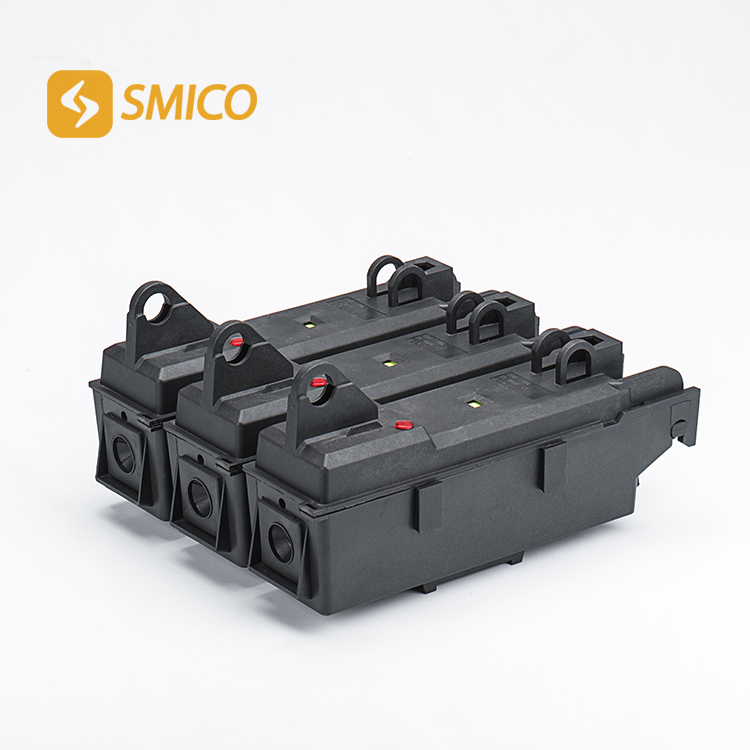 General Description

The LV fuse-switch disconnector APDM400 is capable of up to 400A fuse NH size 1 and 2,it is ideal for all secondary distribution protections.It could be connected with cable lugs(not included) or by connectors,configurable for unipolar operation,bipolar,tripolar etc.With devices for signaling and indication of operation and safety accessories to improve the operation of the equipment.
The switch fuse APDM400 has the following features included
Link Protector
Operating light the fuse
Indicator of installed fuse
Viewer characteristics of the fuse installed
Scalable safety inserts for siblings of bipolar-shaped section,pole,pole,ect..
Eyelets suitable for proper and safe opening and closing operation,assembly and disassembly of the cover.
Pole Mounted Fuse Switch Disconnector for L.V. System is specially designed as an on-load protective switch and offers a reliable medium for disconnection and protection of fully insulated open wire network section. The unique modular design offers flexibility to connect switches for single, double, triple and quadruple phases. Series of such combinations can be linked together.
Features
* Electrical and Mechanical fuse indicators.
* Minimum number of moving parts.
* Designed for switching on full load with DIN Type fuse links upto a rated current of 400A.
* Arc quenching chambers to allow for On-Load switching.
* Change of fuse possible by using the Insulated operating rod.
* Lower flap can be withdrawn by the Insulated operating rod.
* Flexibility of linking a series of flaps for simultaneous operation.
* The contacts are rigidly mounted in the housing,independent of the terminal bolts.
* Bolted or Moving blades linked neutral.
* Host of termination available on request to suit individual Construction
The switch is versatile and ideally suited for top mounting directly to poles, transformers and cross arms. The fuse switch disconnector is fully insulated with high glass content. This high quality of material, together with robust construction guarantees consistent performance even under adverse climatic conditions. The upper housing of the switch is hinged to the lower body and houses the conductors, terminals and contacts. The operation of the switch is simple and safe with the help of an insulated operating rod. The fuse contacts are fully shrouded and terminals are made of ETP grade high conductivity copper.
They are duly tin plated which ensures minimum contact resistance besides offering flexibility to use copper or aluminum cables. The switch can take conductor size of 50 to 240 sq. mm.
Type Testing
The fuse switch has been extensively type tested according to IEC 60947 part 1 & 3 for:
Test Sequence – 1: General Performance Characteristics.
Test Sequence – 2: Electrical and Mechanical Endurance.
Test Sequence – 3: Short Circuit Performance Capability
at 10 kA rms for 0.5 s.
Test Sequence – 4: Conditional Short Circuit at 17 kA peak.
Test Sequence-5: Overload Performances, Degree of Protection and Impulse Test at 9.8 kV peak.

Technical Characteristics
| | |
| --- | --- |
| Voltage | 500V |
| Insulation level | 1000V |
| Frequency | 50/60Hz |
| Operational current with fuse | 400A |
| Operational current with blades | 630A |
| Installation category | AC22B |
| Short lasting current (1s) | 12kA |
| Dynamic current (crest ) | 50KA |
| Interruption capacity | 100KA |
| Minimum mechanical life (operation ) | 1000 |
| Weight | 1.7KG |
| Protection range | IP24 |