Wall mounted saddles and cable ties for LV-ABC lines
Publish Time:
Author: Site Editor
Visit: 379
The wall mounted saddles are designed to install LV-ABC lines (self-supporting or insulated neutral messenger type) alongside walls and poles.

The LV-ABC cable is fixed to the saddle by a cable tie. A second cable can be installed on the same support by hanging it down from the bottom side with an additional cable tie.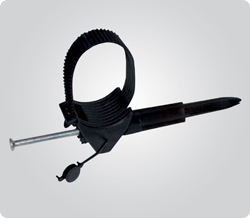 Features
The body of saddles and the cable ties are made of weather and UV light resistant polymer material
Width of cable ties 9 mm
Black colour
Halogen free and flame retarded
Temperature ranges: operating –50 °C to +80 °C, installation –15 °C to +60 °C, max. allowed peak 120 °C