Suspension clamps for LV-ABC lines with insulated neutral messenger
Publish Time:
Author: Site Editor
Visit: 539
The clamps are designed to suspend LV-ABC lines with insulated neutral messengers. The neutral messenger is fixed by an adjustable grip device. A movable link allows longitudinal and transversal movement of the clamp body.
Standard clamp version ES is supplied with preinstalled bracket. The upper bulge of the bracket prevents the clamp from turning over the bracket. The clamps are also available without bracket (version PS) and with a fuse link (ESF). PS clamps are fixed to a pole by a pig tail hook or bracket.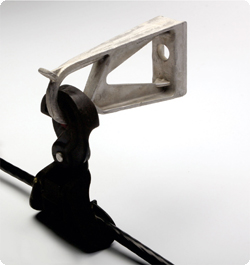 Features
Tool free installation
Not lose parts
Clamp and link made of polymer giving an additional insulation between the cable and the pole
Exceeds requirements according to CENELEC EN 50483-3 and NFC 33 040
Clamp and movable link made of weather and UV-light resistant glass fiber reinforced polymer
Universal fixing of bracket by 1 bolt M16 or 2 stainless steel straps of 20 x 0,7 mm
Bracket made of corrosion resistant aluminium alloy