Waterproof insulation piercing connectors test voltage 6 kV in water
Introduction:
The insulation piercing connector is mainly composed of reinforced shell, piercing blade, gasket, waterproof silicone grease, high-strength bolt, torque nut and cable terminal cap cover. When the cable needs to be branched or connected, the cable branch line terminal is inserted into the waterproof terminal Cap cover, after determining the branch position of the main line, use a socket wrench to twist the torque nut on the clamp. During the process, the contact blade will pierce the cable insulation layer and contact the conductor. The gasket presses around the pierced position of the cable, inside the shell Silicone grease overflows. When the torque reaches the set value, the nut torque mechanism falls off, the main line and the branch line are connected, and the waterproof performance and electrical effect reach the parameters required by the standard
Advantage:
It has the characteristics of easy installation, low cost, safe and reliable maintenance-free. The cable branch can be made without cutting off the main cable or stripping the insulation layer of the cable. The connector is completely insulated, and it can be live-operated. It can be branched at any position of the cable. There is no need to use terminal boxes and junction boxes. And the joint is resistant to distortion, shockproof, waterproof, anti-corrosion and aging. The use of insulation piercing clamps for cable branching has obvious comprehensive benefits and is more cost-effective than the previous traditional connection methods
Before installation. During installation After shear head breaking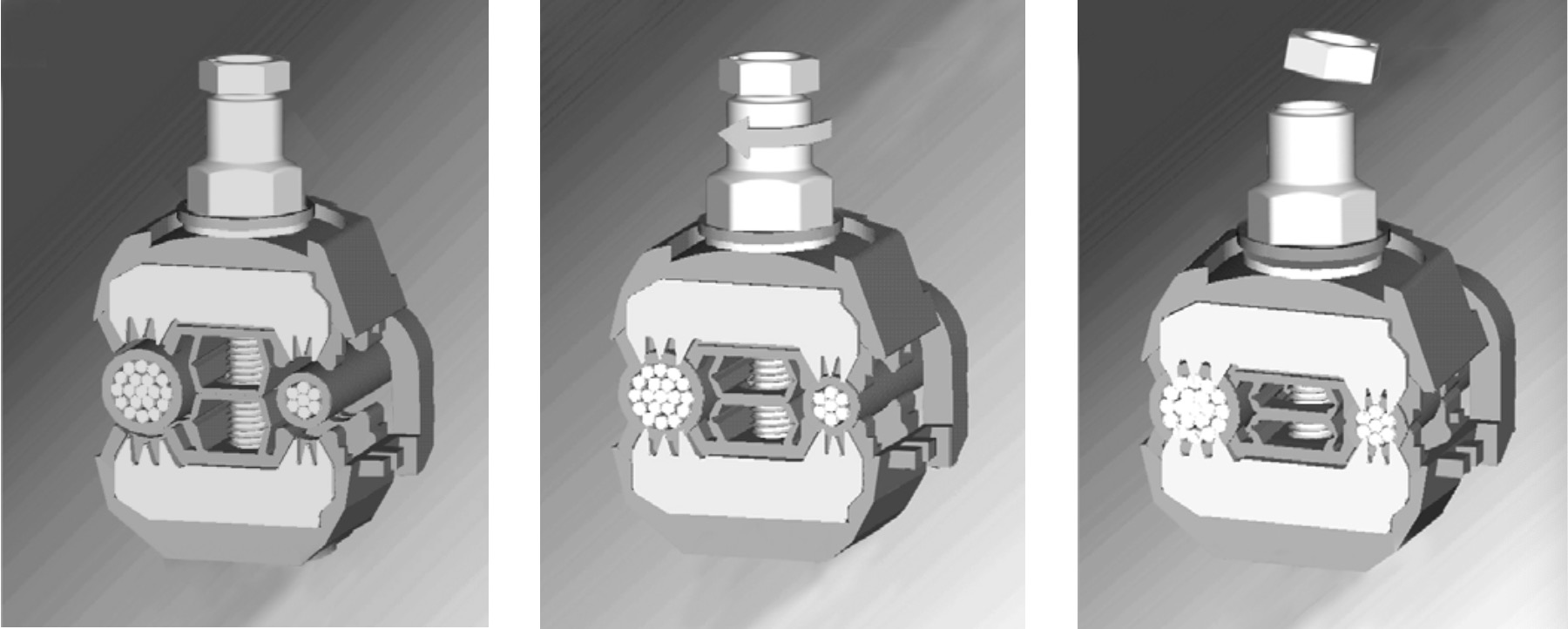 1.Connector easily positioned over cables, no loose parts can fall to ground. The correct position of the branch conductor can be felt inside the end cap.
2.Contact blades pierce the insulation and reliably contact the conductors. The tightening screw is insulated from the contact blades thus providing maximum safety for the installer even during live line installations.
3.The shear head ensures that conductors are not damaged by too large forces; the long neck prevents that the head could shear off too early by naturally applied cantilever loads on the tightening tool. The seals firmly conform to the insulation to prevent any moisture ingress.
Classification:
1. Insulation piercing connector can be divided into 1KV, 10KV, 20KV insulation piercing connector according to voltage classification.
2. According to the function classification, it can be divided into ordinary insulation piercing connectors, electrical grounding insulation piercing clamps, lightning protection and arc insulation piercing connectors, and fire insulation piercing connectors
Technical specification
Dimensions

Main Cable Line:

25-95mm²

Branch Cable Line:

25-95mm²

Norminal Current:

214A

Piercing Depth:

1.5-2mm

Features

Bolt:

M8*70

Mechnical

Tightening Torque:

20Nm