Pigtail Bolts
Pigtail bolts is also known as a pigtail hook or pigtail eye bolt, it is designed to be used for connecting the dead end clamps and in some cases, it can also be used on the suspension clamp. N eye pigtail bolt can be used on both electric and communication pole lines.
The reason why it is known as a pigtail bolt is because of its shape or design. The spiral end of the bolt resembles the tail of a pig.
Pigtail bolts for power lines come in different shapes or designs. You will find some that are either square welded washers or round welded washers.
Another variety of pigtail eye bolts have two forged points which are positioned on the right side of the hook. This design prevents the washer from falling off.
In terms of the construction, our pigtail bolts for ale are made of quality galvanized steel. This material has a high tensile strength that enables it to withstand any force. The galvanization protects against corrosion.
As a reliable pigtail bolt manufacturer in China, SMICO designs and manufacture quality pigtail bolts for sale.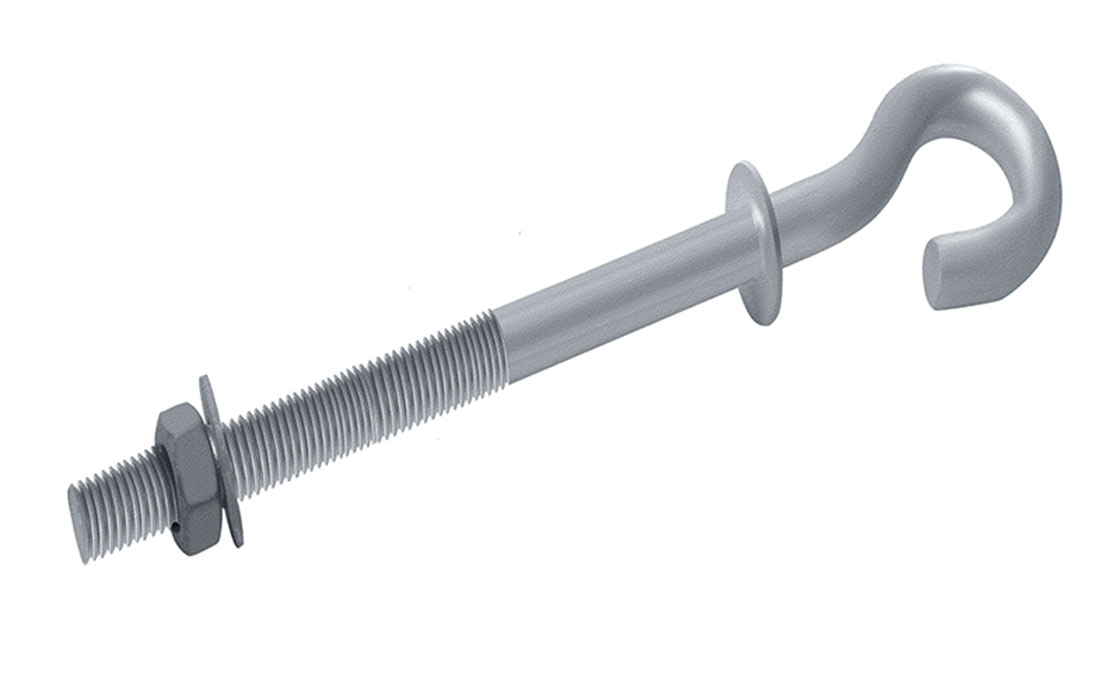 Pigtail Bolts Ultimate Buying Guide
Some people call it a pigtail hook, pigtail eye, and a pigtail fastener. All these names refer to one product that is used for performing a specific role on the electrical pole line.
Pigtail hardware is a common feature in the field of electricity and electronics. They are used for connecting moving parts of electronic installations to electronic devices.
Are you planning to buy pigtail bolts in China? Whether it is for your personal use or you are planning to resale the bolts, this piece of article is for you.
I am going to give you a complete guide on buying the best pigtail eye bolts for the pole line.
Applications of Pigtail Bolts
Given their designs, pigtail bolts enjoy quite a wide range of applications. It can be used in both indoor and outdoor settings.
In the indoor, a pigtail bolt is used for suspending refrigeration, ventilation, air, and water columns.
In the outdoor setting, the bolt is used for suspending cables that are connected to the poles. In other words, it plays a supporting role in these cables.
The way these bolts are manufactured makes them suitable for different environments hence versatile applications.
If you are planning to buy pigtail bolts in China, which areas of applications would you want to put them to?
What is a Pigtail Bolt?
Pigtail bolts are the types of bolts that are threaded at one end and have an attachment which acts as an expansion unit. You can attach an expansion component to this end through a threaded section.
The other end of the bolt is what forms a pigtail and provides a point for the suspension of the electric cables.
This end is also capable of supporting chain type handrails and ventilation columns.
Pigtail bolts are used in different types of poles. You can fix the accessory onto a wooden pole, metallic pole, and even concrete poles.
The design of the pigtail bolt allows it to support an aerial bundled cable that is positioned between dead-end clamps and suspension clamps.
Pigtail Bolt Manufacturing Process
There are different steps and methods of manufacturing pigtail hooks The most common methods include:
-Cold Forging: This process entails uncoiling steel and cutting them into required rods. This process is executed to be in line with the ISO 898-1 standards.
-Threading: The threads are formed on the metal through rolling and cutting
-Pigtail end: This is the step where we obtain the ultimate design of the pigtail bolt.
-Heat Treatment: The bolts are subjected to extremely high temperature. The goal of this is to harden the fastener
Versatile
Pigtail bolts are designed to work on a wide range of applications. They are suitable for both indoor and outdoor applications.
The bolts are also capable of supporting different weights of loads without snapping or breaking.
Would you like to get the full benefits of using pigtail bolts? Then you should be focused on quality.
Low-quality pigtail bolts are likely to give you problems.
Contact pigtail manufacturers SMICO in Wenzhou China and place your order for the quality fastening bolts.