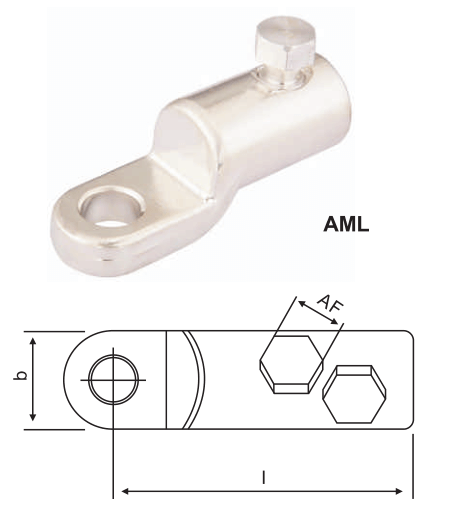 Characteristics:
1.Total cross-section:25-400mm
2.Pr-engineered design for perfect fit in medium voltage cable accessories upto 42KV.
3.Lugs are suitable for out door and indoor applications.
4.Connector and lug bodies are made of a high-tensile ,tin plated aluminium alloy.
5.Lugs are suitable for outdoor and indoor appilcations and are available with different hole sizes.
Cable Size(mm2)

Bolt Size

Code

Dimension(mm)

Bolt Quantity

B

L

AF

25-95

M-12

AML25/95-13

24

60

13

1

M-16

AML25/95-17

35-150

M-12

AML35/150-13

28

86

16

1

M-16

AML35/150-17

95-240

M-12

AML95/240-13

33

112

19

2

M-16

AML95/240-17

M-20

AML95/240-21

120-300

M-12

AML120/300-13

37

115

24

2

M-16

AML120/300-17

185-400

M-12

AML185/240-13

42

137

24

3

M-16

AML185/240-17

M-20

AML185/240-21